2020 has been a year of uncertainty but one thing that's brightened our spirits is the street art scene in Leeds and how it's added an extra pop of colour to this gloomy year.That's how we discovered the uber-talented Emma Hardaker – working in our next-door neighbourhood Mabgate. She's worked alongside MAP charity to funky-up pavements around the area and is a favourite with City Centre Management too – turning dull hoardings into works of art (have a look at our last blog post for more info!).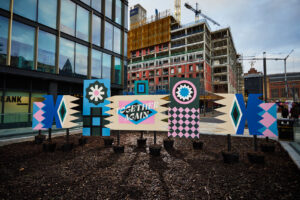 So, we thought who better than Emma to commission a Christmas installation from?Along with sign painter Jameson Rogan, Emma has created a fun, festive and contemporary Christmas installation for us on Playhouse Square.Both artist's work is typically graphic in style and takes reference from mid-century design, pattern and type.Drawing inspiration from traditional Christmas wrapping paper patterns and using the tag line "Together Again" – a sentiment shared by all this Christmas, the two designers wanted to create something that is vibrant and eye-catching but not overtly Christmassy, using more muted winter colours and subtle shapes and patterns. This piece is a modern take on the usual Christmas decor we see.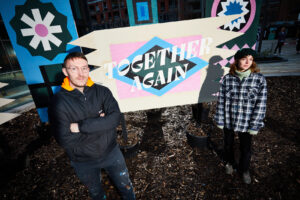 So, we'd like to say a huge thank you to Emma and Jameson for creating this great installation, and Happy Christmas to all our friends, neighbours and the people of Leeds, from everyone here at SOYO.